Beginning Wednesday, December 22 at 6pm through Sunday January 2, Appalachian State will implement our annual holiday shutdown. This serves as an opportunity for the university to reduce energy use, emissions, and costs while students, faculty, and staff are not on campus.

Estimated Savings
We estimate our financial energy savings as being over $73,000 thanks to our combined efforts to reduce energy usage over the shut down; and anticipate campus GHG Emissions to be reduced by 443 metric tons of eCO2!
You can help! Before you leave for the holiday:
Make sure windows are closed and latched.
Please remove any remaining space heaters! Individual space heaters 'trick' HVAC systems into cooling mode, create significant fire dangers, and are not allowed per the North Carolina Office of State Human Resources.
Make sure computers, printers and other peripherals are turned off.
Unplug cell phone chargers, laptop chargers and any device with a light.
Unplug coffee makers.
Unplug TV's and any other unnecessary electronics.
Make sure lamps and lights are off.
Be extra-friendly to the environment by cleaning out your refrigerator!
Clean out refrigerators and unplug them with the doors left open.
What about experiments/animals, musical instruments or events on campus?
Buildings with events scheduled will be heated to accommodate scheduled events.
Sensitive areas (i.e. science labs and music buildings) that require constant temperatures will remain heated according to the campus-wide temperature policy.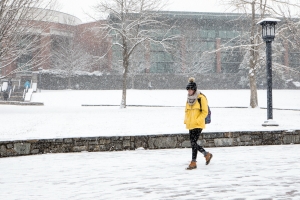 Tags: