If you've ever met David Barnhill while he's installing or changing locks on campus, then you've seen his broad smile. He's a person who is constantly in motion, whether on the job site or back in the shop, but he will always pause to answer a question for a customer or to provide additional assistance to a co-worker.
Duane Reese, Building Maintenance Supervisor, wrote of David, "He has a great attitutde and routinely goes beyond his duties for our customers. David continually learns about new technology in the lock and building-access field and has been instrumental in helping with the "access control" maintenance. I repeadedly hear people talk about his dedication and work ethic in performing his duties for Facilities Operations."
David began working at the University in the Housing department where he performed maintenance in residence facilities. While working in the Housing department he continued to develop skills and abilities in basic carpentry, plumbing, electrical, and locksmithing. David transferred from Housing to the Facilities Operations Lock Shop in 2018 and has continually improved his skills, knowledge and abilities--a trait that all outstanding Employees of the Quarter share.
Facilities Operations Employees of the Quarter are selected based on:
Exemplary Work Ethic
Stewardship of Campus Property
Positive Attitude
Creative Initiative
Sustainability Efforts
Mentorship of Collegues
Volunteerism in the Community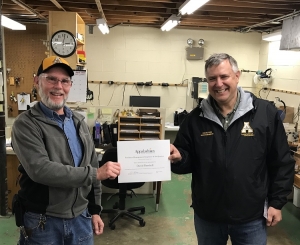 Tags: