Rick Jones (Carpentry Shop) is our 3rd Quarter 2020 Employee of the Quarter.
Rick is a highly skilled and professional carpenter who knows the value of taking great care of tools. "If you need anything, Rick will know right where it is." But this award isn't just about skills. It's about positive attitude.
Rick *always* has a smile on his face and he's the first person to step in to help others. He responds to every after-hours call back without complaint.
Rick's served as a volunteer firefighter for years, maybe that tendency to lend a helping hand is just part of his DNA, and others really enjoy being around him.
He's thrifty, too, which we can all appreciate. Rick sets aside any materials that can be salvaged from a job to be repurposed rather than thrown away. And he has the sort of mind that finds solutions to solve problems even if resources are limited.
All in all, it's easy to see why we appreciate having Rick Jones on the Facilities team. Well deserved, buddy!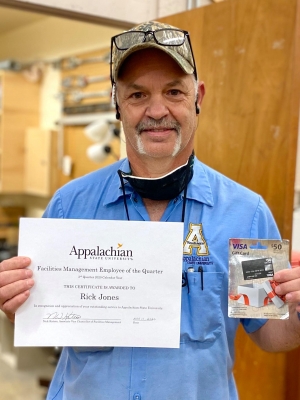 Tags: